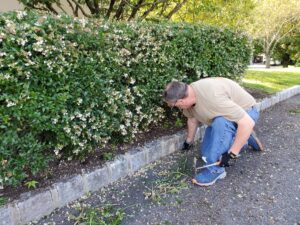 A big, BIG, "Thank you!" to all the folks who turned out on Saturday morning to help with weeding and trimming.  The outside beds and bushes were looking a little overgrown and messy.  There was a lot of work to do (isn't their always?), so we are grateful for everyone who chipped in.
The property is often the first impression of St Peter for our guests.  Taking pride in its appearance tells visitors something about our congregation.
There is still more to be done (isn't there always!).  If you were unable to join us on Saturday but can spare some time during the week, contact Jim Yost about how you can help.  A list of items is also available on the bulletin board outside the sanctuary.
"Whatever you do, work at it with all your heart, as working for the Lord, not for human masters…."